Rancho del Zocalo is Frontier Land's Best!
by Jose Espinal
(Miami, FL, USA)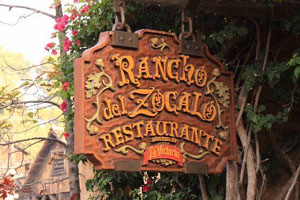 Rancho del Zocalo
I like Rancho del Zocalo in Frontierland very much because I LOVE Mexican food.


My favorite dish is the Rancho del Zocalo burrito.
I love this place. The way they designed the restaurant looks very nice with the patio and all the flowers. It's a nice shaded place where you can cool off.
And the food is great!
Learn more about planning your own
Disneyland vacation
or
Anaheim vacation
, including renting a timeshare at
WorldMark Anaheim
or
Dolphin's Cove
.
Join in and write your own page! It's easy to do. How? Simply click here to return to What's Your Favorite Restaurant at Disneyland?.
Discount Timeshare Rentals
Experience the Thrill of Receiving Notice of My Weekly Timeshare Rental Specials that Non-Subscribers Will Never Learn About. Ever.
Don't worry -- your e-mail address is totally secure.
I promise to use it only to send you Timeshare Rental Special of the Week.