Coeur d Alene: the crowning jewel of your Idaho vacation
When you start too feel too stressed out by our modern world, you know it's time for a Coeur d Alene vacation. Too be sure, no matter where you go on your Idaho vacation, you can be assured of experiencing the state's unique, wild beauty. Coeur d Alene, however, maintains its place as one of the most beautiful areas in Idaho.
Great Places to Stay for your Coeur d Alene vacation
The Coeur d Alene Resort is world-famous. While there, you can take advatage of a few different golf packages and mmmmm... spa treatments. Plus, they are near a number of fine restaurants nearby.
If you're in the mood for something a little bit more rural, consider staying at my Coeur d alene vacation timeshare rental just across Lake Coeur d Alene, about halfway between the city of Coeur d Alene and the City of Harrison.
There are so many restaurants to try during your Coeur d Alene vacation
You'll discover a large number of restaurants walking distance from Lake Coeur d Alene. Still want more? Post Falls is just 15 minutes west from Coeur d Alene. Feel like working in another state into your Idaho vacation? Washington, and Spokane, with all of its restaurants, is a 50-mile drive west.
See a list of some of the most popular Coeur d Alene restaurants, Post Falls restaurants, and Spokane restaurants, including addresses, phone numbers, and reviews!
Click here to see a larger map of restaurants in Coeur d Alene [opens in a new window]
What is there to do in Harrison while on your Coeur d Alene vacation?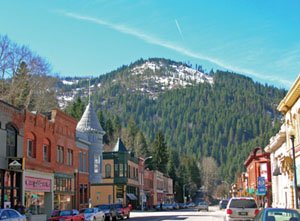 Downtown
Located 38 miles south of Coeur d Alene, and about 20 miles south from the timeshare rental, Harrison has a number of annual community events that you may wish to partake of during your Coeur d Alene vacation.
May 14 Barn Party.
June 18 Pig in the Park & June Bug Craft Fair.
July 4 Fireworks over Lake Coeur d Alene.
June 18 and September 3 Live music in the park on most Saturdays. Bring a picnic and a blanket!
July 29-31 Old Time Picnic.
September 11 Haul Ass to Harrison Car Show & Shine and Chili Cook-Off
October 1 Oktoberfest
Take a Hike on your Coeur d Alene vacation
Heyburn State Park is about a 30-mile drive south from Harrison. From the Coeur d Alene timeshare rental, turn right onto ID-97 S and stay on ID-97 S for about 26 miles. ID-97 S turns into ID-3 S. Stay on ID-3 S for 10.8 miles. You'll find yourself in the town of St Maries. Turn right on College Avenue, then follow the signs for City Center/Plummer by taking your first right onto ID-5 W for 11.9 miles.
Venture into the Coeur d Alene River Ranger District of the Idaho Panhandle National Forest. Visit the Forest Ranger in Coeur d Alene to pick up your map and inquire about hiking conditions. Their office is located at:

Fernan Ranger Station
2502 East Sherman Avenue
Coeur d'Alene, ID 83814-5899

Biking on your Coeur d Alene vacation
One of the most beautiful bike rides in the country is the 15-mile Hiawatha Trail (opens in a new window). In general, the Hiawatha Trail is open to cyclists from late May through early October. This spectacular ride takes you up seven trestles and through ten tunnels across the stunning Bitterroot Mountains that span the Idaho/Montana border...in fact, one of the ten tunnels, Taft Tunnel, takes you underneath the Idaho-Montana state line for about a mile and a half!
This easy, mostly downhill ride is popular with all ages. A Day Pass to ride the Hiawatha Trail is $9. Children ages 6 to 13 are $6. Children under 6 are free. You may also rent a variety of bicycles from the Lookout Pass Ski Area people, who operates the Route of the Hiawatha.
Interested in something a little bit more...hard core? Consider the 72-mile Trail of the Coeur d'Alenes! (opens in a new window) Most cyclists complete the trail in two or three days. It is free to ride the trail. Along the way you'll find places to eat and lay your weary head, though sometimes that does mean pitching your own tent. In addition, you'll find opportunities for a range of other outdoor activities, including hiking, sightseeing, swimming, fishing, boating, kayaking, touring, geo-caching, wine tasting, antiquing, and shopping!
You can also rent bicycles from Pedal Pushers at 101 N. Coeur d'Alene Avenue in Harrison. As of this writing, they are open everyday but Wednesday and Thursday, from 9 am to 5 pm. Give them a call at 208-818-2954.
Go Swimming on your Coeur d Alene vacation
Honestly, you can't call it a Coeur d Alene vacation unless you get into the Lake!
Called by many (including National Geographic) The Most Beautiful Lake in the World, Lake Coeur d Alene is perfect for swimming during the warmer months. If you're staying at the Coeur d Alene timeshare rental, the Coeur d Alene Resort, or other well-positioned places, you'll find the Lake beckoning you, just outside your door.
Harrison maintains a protected public beach and swimming area smack dab between the boat docks and the Trail of the Coeur d'Alenes. The beach is nearby the Harrison City Park, giving you a great shaded places to cool down and enjoy a picnic lunch.
Go Boating on your Coeur d Alene vacation
Lake Coeur d Alene is a boater's dream come true, and it shows by how quickly the docks fill up during the summer.
There are a number of docks and boat launches in and around Harrison, but the one with the most ammenities is Gateway Marina 250 West Harrison; Harrison, ID 83833 208-689-3902. There, you can get some grub, some ice cream, and heck, you can even rent a houseboat!
Go Fishing on your Coeur d Alene vacation
Because the Coeur d'Alene Indian Reservation crosses Lake Coeur d Alene, you may need to get a Tribal Fishing License instead of, or in addition to, a State Fishing License.
Stop by Steamboat Trader (100 Coeur d'Alene Ave; Harrison, ID 83833 208-689-9372) to get your fishing license(s).
Bird Watching on your Coeur d Alene vacation
Head over to the Thompson Lake Wildlife Refuge, located around Anderson Lake and Thompson Lake, about a mile and a half northeast from the town of Harrison. And bring your binoculars and camera!
As you drive down Blue Lake Drive, you may see, in addition to numerous species of waterfoul, some tundra swan. Atop the utility poles you're likely to spot nesting osprey. At the lakes, you may find all kinds of grebes, including red-necked grebes, horned grebes, and pied-billed grebes.
As the waterfowl make their way south to prepare for the coming winter, you may spot a few Eurasian wigeons among them. And, as the season turns colder, you may find the northern shrike along with a few species of sparrow, including the American tree sparrow and the swamp sparrow.
Come summer time, expect the black tern, yellow warbler, violet-green swallow, Canada geese.
Call 208 769-1414 for more information about the Thompson Lake Wildlife Refuge.
Stroll the Farmer's Market on your Coeur d Alene vacation
If you're staying at the Coeur d Alene timeshare rental, you have a full kitchen at your disposal. Why not cook up something fresh from the Farmer's Market?
In Coeur d'Alene, try the Kootenai County Farmer's Market every Wednesday evening, 4 pm to 7pm, May through September, at the corner of Sherman and Fifth.
Every Saturday between 9 am and 2 pm you can find everything from fresh fruits and vegetables to arts and crafts at the Harrison Saturday Market, located next to the Grange Hall, near the corner of Garfield and Frederick in Harrison.
Go Wine Tasting on your Coeur d Alene vacation
While in Coeur d Alene, stop by Coeur d'Alene Cellars, located at 3890 Schrieber Way in downtown Coeur d Alene. Their wines are lovingly vinted from the renowned vineyards of the Columbia Valley. You can call them at 208-664-2336.
If you haven't yet tried wine made from berries, be sure to try a glass of Sheppard's sometime during your Coeur d Alene vacation. Sheppard's Fruit Wines crafts delectable wines made from locally-grown raspberries, blackberries, and elderberries. They are sweet and refreshing. Sheppard's Tasting Room is located at 102 N. Coeur d'Alene Avenue in Harrison, next door from Pedal Pushers. Give them a call at 208-689-WINE.
Triple Play Family Fun Center
Ready to see what lies beyond the Lake Coeur d Alene area? Take your kids to the Triple Play Family Fun Center, at the corner od US-95 and Orchard Avenue in Hayden, just six miles north from Coeur d Alene.
"We took the kids to Triple Play family fun center and it's indoor water park 'Raptor Reef' which was about 10 minutes past downtown CDA and located in Hayden. A blast was had by all and the 3 water slides there are pretty amazing (although the yellow one scared the heck out of me and I only went on it once...the other two were a TON of fun.
Ski Year-round on your Coeur d Alene vacation
"We stayed in Mid March - it was a skiing trip. The resort is a 45 minute drive to Silver Mt (Alpine skiing) a 90 minute drive to Schweitzer (Alpine and Nordic) and 20 minutes to 4th of July Pass (Nordic groomed).

"Both Schwietzer and Silver offer great skiing for beginner through expert and both have very good teaching areas. I would recommend Silver as a place to learn to ski. I would pick Schwietzer as a more complete destination resort for all levels of skiers and riders except first timers.

"Silver has NO high speed lifts - a real downer. Schweitzer has truly spectacular views of three states, Lake Pend O'reille and Canada. Its great black and double black tree sking is worth the drive.

"Silver offers a 22 minute long gondola ride from the town of Kellogg to the ski area. It is the only way to get there and is part of the lift ticket price. On the plus side - it beats driving multiple switchbacks up and down a mountain both in time and money. On the down side it does mean you have to remember everything you may want for the day and pack it in a bag to lug up the mountain in the Gondola." - Stephen, a WorldMark Owner
Silverwood: Idaho's Only Theme Park
Silverwood (27843 N Highway 95, Athol ID 1 (208) 683-3400) is Idaho's only theme park. It's a 35-mile drive north from the Coeur d Alene.
Silverwood
Most of its rides are similar to what you would find at a larger carnival, but better. The best ride there is their wooden roller coaster, the Timber Terror. Yes, it's a short ride, but worth the wait.
Their water park, Boulder Beach, seems to be more popular than the rest of the park. Try renting an inner tube instead of using the free ones; this will get you through the lines faster.
Boulder Beach has two wave pools, tall slides, tube slides, and more. Buy yourself a drink (yes, they sell alcohol) and float down the lazy river of Elkhorn Creek.
While you're not allowed to bring food into the park, you can bring a cooler of food and leave it in your truck since they do allow in-and-outs.
"The park was started out simply as a main street attraction that featured a very popular train ride on a historic engine that the owner of the park obtained when he outbid the Disney Corporation. Over the years the park has made the most of the 600+ acres it owns, and has currently developed over 200 acres to include 65 rides and attractions. The park offers something for everyone from the youngest riders to the more seasoned thrill seekers." - Gareth M.
Another tip: Stop at CostCo first, you can buy your Silverwood tickets at a discounted price. Silverwood also holds frequent specials. For example, moms get in for free during Mother's Day weekend, and dads get in for free during Father's Day weekend. Take a look at Silverwood's Promotions and Discounts.
Discount Timeshare Rentals
Experience the Thrill of Receiving Notice of My Weekly Timeshare Rental Specials that Non-Subscribers Will Never Learn About. Ever.
Don't worry -- your e-mail address is totally secure.
I promise to use it only to send you Timeshare Rental Special of the Week.