Things to do in Destin while on Your Destin Vacation
Visiting Destin for the first time? Consider starting your Destin vacation with a overview tour of Destin's beaches by helicopter!.
But what if you want to do everything while on your Destin vacation? Take a look at this special offer that gives you the best of Destin - parasailing, banana boating, jet skiing, kayaks, paddle-boards and ocean water-slides - for over 50% the price of purchasing each experience seperately.
You Could Practically Spend Your Entire Destin Vacation at Destin Harbor
In the water, on the water, or next to it, you're sure to discover a myriad of ways to enjoy Destin Harbor during your Destin vacation. From boating, to fishing, parasailing, scuba diving, dolphin tours, glass-bottom boat rides, snorkeling, and sailing, you could spend your whole vacation at the Destin Harbor.
Earn your PADI certification on your Destin vacation in just four days with Emerald Coast Scuba (503 Harbor Blvd, Destin, FL 32541 850-837-0955). Or just go diving! Bring five people diving with you and they'll treat you to a cool sightseeing cruise.
"I just recently ellected to use Emerald Coast Scuba to aquire a Open Water Scuba certification. My entire experience was great. From the familly like atmosphere to the spectacular proffessionalism. I would recommend Emerald Coast Scuba to all!!!"
- travel.yahoo.com
Watersports fans: looking to rent yourself a nifty pontoon boat or a waverunner during your Destin vacation? There are a few companies who can help you out there...
Xtreme H2O (7 Calhoun Avenue Destin, FL 32541 850-978-3060) is running a special offer on a waverunner dolphin tour. Not so interested in the dolphins? If you'd just like to speed around on a waverunner, take a look at this waverunner rental special offer instead.
Rent yourself a 24-foot pontoon boat (seats 12!) or a 3-person Yamaha VX Deluxe waverunners from Blue Crab Watersports, (404 Harbor Boulevard, Destin, FL 32541 850.218.5504) located in the Destin harbor behind Marina Cafe.
Luther's (202 Harbor Boulevard E; Destin, FL 32541 850-650-8733) also rents out pontoons, waverunners, and kayakes. They help tak the bite out of your Destin vacation with their special offers when you rent one of their pontoon boats, rent one of their kayaks, or rent one of their waverunners or jet skis.
Boogie's Water Sports (16 Harbor Boulevard, Destin, FL 32541 850-654-4497) provides jet ski, wave runner, and pontoon boat rentals that are available by the hour, half a day, or overnight time periods.
"We were in Destin and wanted to go parasailing so we called around a couple places and Boogie's had the best rates. There were six of us so that was kind of a big deal. We went down there and the people were absolutely fantastic. Everybody. The folks in the booth were cheerful, very knowlegeable and informative about what to expect, and the guys on the boat were fantastic. We had four kids with us who were a little fearful but the Boogie's folks put them at ease and we all had a great time! I highly recommend Boogie's and will be going back this year when we're down there again."
-travel.yahoo.com
Who doesn't love the beauty, the sleekness, the intelligence of dolphins? They look so peaceful when they glide through the water, and peaceful is one of the things I want during a Destin vacation. There are a few companies at Destin Harbor who will take you up close and personal with these marine mammals as they frolic in their natural habitat. Olin Marler's Dolphin Cruise (102 Highway 98 East, Destin 850-837-7095) narrates your cruise through the Destin Harbor, through the East Pass into the Gulf of Mexico and into the Bay. Not only will you see dolphins at play, but you'll be treated to a spectacular view of the Emerald Coast shoreline. Try your cruise early in the morning, at noon or around sunset for three great views.
Pelican Adventures, Destin Harbor (850.650.3825) also offers 2.5 to 3 hour snorkeling and dolphin tours. Plus, if you're interested, they can also take you out on a fishing trip.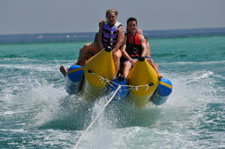 Rent a banana boat in Destin
Have a splashingly good time for you and up to five of your Destin vacationers with this special deal on banana boat rentals at The Electric Cowboy (315 Harbor Boulevard, Destin, FL 32541). They've also got a great deal on a snorkeling excursion.
Charter a private sailing trip from Destin Harbor to Okaloosa Island aboard a fully equipped 1996 Hunter 29.5 sloop. This special sailing offer gives you the option for a 8-hour, 4-hour, or romantic 3-hour sunset voyage.
If you like the idea of renting a sailboat, but want to captain it yourself, consider renting a 25-foot Catalina, a 22-foot US Yacht or a 27-foot Ericson throught this sail boat rental special offer. Rentals are available for four hours up to two days.
Whoa! See Destin from above when you take flight in an amphibious aircraft. They say it's like riding a motorcycle in the sky. From the sky you can see the beautiful white shores of the Emerald COast, plus manatees, sharks, and dolphins, oh my!
Looking to spend some of your Destin vacation parasailing? I built this page with you in mind: a whole page dedicated to parasailing in Destin.
Learn Something New on Your Destin Vacation
There's something magical about knowing how to surf, knowing that you have the skill to practically walk on water. Your Destin vacation is the perfect time to add this skill to your repertoire of awesomeness, no matter your current skill level. Learn how at the Ride On Surf School, (Old Hwy 98, Destin, FL 850-582-2593). They offer everything from group lessons to private lessons and two-day weekend camps.
All-A-Board Surf School will also let you return from your Destin vacation with some new surf skillz. They offer private lessons in addition to one-hour, two-hour, and three-hour lessons through this special deal.
I love cooking and I especially love learning new ways to make mind-blowingly delicious food. Can you relate? Try your hand at Kitchenique (36150 Emerald Coast Parkway Destin, FL 32541 800-476-2981) day, evening, or private cooking classes under the tutelage of local, celebrity and touring chefs. Kitchenique also sells gourmet foods, teas, coffees, wine gadgets, cookbooks, and other kitchen essentials.
Amuse Yourself on Your Destin Vacation at these Amusement Parks
With over 40 Water attractions and an Adventure Park, you can't miss Big Kahuna's Water Park (4061 Hwy 98, Destin, FL). Avoid the long line and save your wallet by taking advantage of this special offer on admission tickets. Big Kahuna's is open from May through September.
"We have season passes and love going on the weekends. There are enough slides/attractions to keep things fresh. I don't think I've ever waited more than 5 minutes to do anything. Great for the kids. 5 or 6 different kiddie pools with small slides and water features throughout. There are tons of lifeguards."
-Jeff J, Destin FL
Thinking about taking a break from the beach on your Destin vacation? Head over to The Track (1125 Highway 98 Destin, FL 32541 850-654-4668) to enjoy a wide variety of family-friendly amusements like go-karts tracks, bumper boats, bumper cars, miniature golf, and a bungee jumping tower.
"I went here with two friends and had fun. They had an arcade inside, and outside was 2 sets of go karts, some water karts where you're in a float with a motor that you can drive and shoot water on people =) Plus mini golf, a koi fish pond, and bungee jumping! Every thing is a lil pricey because you have to buy tickets for each ride. You can get the best price for tickets by buying them online before you get there because the price inside is high. Most rides are 2 to 3 tickets and and we had a coupon so that each ticket was only 1.99. It was great though. Hurry up and go!!!"
-tripadvisor.com
Perhaps known more for its restaurants and bars, Village of Baytowne Wharf (Destin, FL 800 622 1038) also offers a short zip line ($18.50 per person) and a ropes course ($12.50 per person).
Spend Your Destin Vacation Reveling in Nature
Travel east from Destin along U.S. 98 and you'll find Henderson Beach State Park (17000 Emerald Coast Pkwy; Destin, FL 32541 850-837-7550). This is a beautiful state park features 60 campsites (including water and electric hookups), boardwalks, plus two large pavilions, a playground, and a nature trail. There is a small admission charge to get in. See their site for current fees, and to make camping and cabin reservations.
Feed the gators on your Destin vacation at Gator Beach (20001 Emerald Coast Pkwy; Destin, FL 850 837 4781). Located at Fudpucker's restaurant, Gator Beach is a free attraction where you can watch educational gator shows and have all your pressing gator questions answered at last.
"While in Destin, be sure to visit Fudpucker's and the Gator Beach attraction there! The food was great and the gators were amazing to watch. You can even buy bait and feed them! My son had a great time and even ate his lunch - LOL. 2 thumbs up!!"
- tripadvisor.com
Take some time from your Destin vacation to wander through Eden Gardens State Park (US-98-SCENIC, #395, Destin, FL 32541 850-231-4214), the old-timey estate of lumber baron William Henry Wesley. Take a guided tour through the mansion to see the family's heirlooms, including some antiques and the second largest collection of Louis XVI furniture in the United States. TOur are available hourly Thursday through Monday. Should you find yourself at the Eden Gardens State Park on another day, fret not: you can still enjoy the baron's 160 acres of stately oaks, flowering trees, and gardens every day. It's lovely, picturesque, and tranquil. Except for the bugs. Bring your camera...and repellant.
"There is a lovely rose garden, as well as azaleas and other types of flora that adorn the grounds. For those who enjoy the natural splendor that foliage offers, old trees line the gardens with dramatic branches which drape down to the ground and back up again. A nice reflecting pond can be found behind the home and a large lawn is a great place to have a picnic. The lawn runs down to the waterfront. There are also some paths you can take through more wooded areas of the gardens with a playful sculptures lining the way."
-Eric S, Gainesville FL
Another great out-of-the-way nature-y place to visit during your Destin vacation is the Jolee Island Nature Park. Situated in five acres, this nature park is a nice place to stroll along its one-mile trail and think about life. Plus there's a pirate ship for the kids to play on. The Jolee Island Nature Park is just a hop-skip-and-a-jump from the Baytowne Marina. Enter the park by moseying along a wooden footbridge over a scenic salt marsh.


View larger map of Jolee Island Nature Park
One of the most enjoyable ways to enjoy the Emerald Coast on your Destin vacation is on the comfortable seat of a beach cruiser. Coastal Cruisers (50 South Holiday Road, Destin, FL 32550 -- behind CVS) is offering a special deal on beach cruiser rentals. Prefer a multi-speed bike? Coastal Cruisers has a special offer on multi-speed bike rentals too!
Cruising on Your Destin Vacation
I love quick dining and entertainment cruises, and shockingly the Gulf Coast has only one of them. Say yes to scrumptuous food, live entertainment, and breathtaking panaramic views aboard the Solarus with SunQuest Cruises (Baytowne Marina, 850-650-2519) any night of the week during your Destin vacation. Or book them for your wedding!
"My wife and I took the dinner cruise on the Solarus on our recent Destin vacation. It was our anniversary, and we thought it would be something special and out of the ordinary to do. Both the cruise and dinner start at $65 per person. That's probably not too bad considering you get a very good meal and a three hour cruise around Choctawhatchee Bay. You have to choose your meal when you call to reserve. They have 3 or 4 main courses. We went with the stuffed grouper, which was excellent. If you choose to have an appetizer or wine/other alcohol with your meal, that's not included and can quickly run up your tab (which we did!) Service was execellent -- very prompt and attentive. There's live entertaiment (well a guy at a keyboard anyway) and a small dance floor for those who care for it. The boat is three levels, and you are able to go out on the decks to observe the scenery as you like. On that note, the sun was setting as we left the docks this time of year (Oct.) so our cruise was pretty much entirely in the dark. It might be more scenic during the long daylight hours of mid-summer. There is of course the obligatory souvenir photo they hit you up to buy at the end, so that can add a little more to the final tab. Overall it was a lot of fun, but only something I would do on special occassions."
-tripadvisor.com
I don't know about you, but I think there's something kind of magical about watching dolphins leap up into the air. Southern Star Dolphin & Sunset Cruises (Highway 98 E, Destin, FL 32541 850-837-7741) offers a narrated two-hour cruise in their 80-foot boat, the "Southern Star." Plus there's music and snacks! Mmm, snacks.
"The cruise was GREAT!!! Very informative all crew were great with kids and adults. I am pretty negative about lots of things, but I would highly recomend this cruise to everyone. We fed birds saw lots of dolphins for a long time the Captain knew just what the dolphins would do next and was very concerned about there preservation. I WAS VERY IMPRESSED!!! Thank you Southern Star we will see you again next time."
-Gene L
Shop Til You Drop on Your Destin Vacation
Is it just me or is it practically impossible to not do a little shopping while you're on vacation? While in Destin Harbor, walk the water-front shops of HarborWalk Village (10 Harbor Blvd., Destin, Florida) where you'll find art galleries, restaurants, watersport outfitters, and of course, retail shops. Click here to see all the shops of HarborWalk Village.
Just ten miles east of Destin you'll find the Silver Sands Factory Stores (10562 Emerald Coast Pky, Miramar Beach, FL 32550 850-654-9771), The nation's largest factory outlet designer store.
"The Silver Sands Outlet is a fantastic place to find a bargain. All of the major brands open consumer direct stores here, where they unload merchandise at steep discounts. Definitely worth a visit!"
-Charles B, Pensacola FL
Spend Your Destin Vacation Relaxing
Don't let anyone tell you any differently - you may accidentally bring your stress along on your Destin vacation! Let Ann & Company work out those stress knots at Therapeutic Massage by Ann and Company (305 Mountain Drive, Suite A; Destin, FL 32541 850-225-0229)
Interested in a massage right on the beach? Or in your vacation rental (Ask about availability)? Or just about anywhere? Consider Massage Therapist Jen Townsend's special offer on a mobile massage.
Yoga...on the beach? Yes please! Give Destin Yoga by the Sea (101 Matthew Boulevard Destin, FL 32578 850-897-3788) a call to see when you can join their next class. Whether you're a complete beginner or a super advanced pro, they can help you unwind on the white sands of Destin.
Miss your pilates while you're on your Destin vacation? Don't worry. Go see the lovely people at Destin Pilates Center (995 Airport Road Destin, FL 32541 850-246-1680). In addition to regular classes, they also offer one-on-one pilates training and small group classes for you and your best friend!
Gotta golf on your Destin vacation? Take a look at my list of golf courses in Destin.
Fishing on Your Destin Vacation
Going fishing? When booking your accommodations for your Destin vacation, consider staying at a place with barbeques like the Wyndham Vacation Resorts at Majestic Sun (Ask about availability at this Destin vacation rental).
In addition to snorkeling, parasailing, kayaking, and scooter rentals, Pelican Adventures (315 Harbor Blvd Destin, FL 850-650-3825) will also take you deep Sea fishing, sport fishing, off-shore fishing, bay and light tackle Fishing while on your Destin vacation.
"The staff on the boat was very friendly and professional. Get a spot up front so you can talk to the Captain, he's very funny. They help you with whatever you need, and work with beginners. We paid $50 for a 5 hour trip. I don't know of any other place where you can have this much fun for $10 an hour. They clean and fillet the fish for you. They even told us a great place to go get it cooked. It was some of the best fish I have ever had. All in all, whenever I am back in Destin, I will be going back here for another trip. These guys are great! The service is spot on, and it's a blast! I really don't know what they could have done better."
- Chris S, West Lafayette IN


Go deep sea fishing for half a day, all day, or even overnight with Breakaway Charters (850-543-4369).
"Captain Lyn and Stinky are organized and put us on the fish. I've been on several charters where I didn't catch a thing...This one is great. We caught fish all day. The first mate gives detailed instruction and is truly concerned on what we catch and that we have fun. They played the absolute best music and we had a blast. We will be booking again with them (of course)!"
-travel.yahoo.com
Olin Marler Charters (102 Harbor Blvd, Destin, FL 32541 - Next to AJ's Bar and Grill)also offers a special deal on their fishing trips. Trips last six hours and depart at both 8am and 3pm. Your bait, tackle and fishing license are included.
Destin Fishing Charters (850-685-1396) specializes in year-round bottom-fishing in the Gulf of Mexico for Red Snapper, Vermillion Snapper, Grouper, Amberjack, Trigger and Scamp, or trolling for King and Spanish Mackerel, Wahoo, Blackfin Tuna, Mahi Mahi and Bonita. Off-shore sport fishing includes Blue Marlin, White Marlin, Swordfish, Wahoo, Mahi Mahi, Sailfish, and Yellowfin Tuna. Mmmmm.
Let Captain Mark Walker take you on a fishing trip with the Charter Boat Bounty Hunter (404 Emerald Coast Pkwy. Destin, FL 32541 850-650-1534) year-round for red snapper, king mackerel and more.
The captain at Joe's Bayou Boat Ramp (800 Beach Drive, Destin, FL 32541) is offering a special on six-hour chartered near-shore fishing trips. By fishing near the shore, you'll likely catch king mackerel and snapper. But, because you're chartering the trip, it's really up to you how you'd like to fish!
"This was a great charter. It's so much better than booking a party or head boat like we did last year. The captain and mate were very helpful and hands on. They were truly passionate about catching fish for our family and showing us a good time. We had a nice bag of fish that included trigger, grouper and snapper. We would highly recommend this trip to anyone!"
-Adam Ballard, New Orleans LA
Day Trips from Destin
After you've enjoyed everything Destin has to offer, why not take a day trip to nearby Pensacola? Just an hour's drive west, it's the vacation spot you've been dreaming of with its beach, sports you enjoy, and a good time for the kids. From big game fishing for dad, shopping for mom, and go-carts for the kids, Pensacola Florida is a great place for your vacation destination.
Discount Timeshare Rentals
Experience the Thrill of Receiving Notice of My Weekly Timeshare Rental Specials that Non-Subscribers Will Never Learn About. Ever.
Don't worry -- your e-mail address is totally secure.
I promise to use it only to send you Timeshare Rental Special of the Week.