Old Town is a marvelous little adventure
by Scott Shine
(St. Clair, Michigan)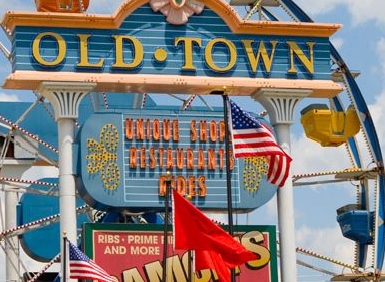 Old Town, Orlando FL
Every time I visit Orlando I base my trip around a number of things. First, location! I like to put myself in a hotel that has a great transportation and lodging package, but that is also close to the strip known as "Old Town". This walkable strip is really a haven for those who want to be able to get out and around, yet avoid the crazy drivers that Orlando is famous for.


Old Town offers a multitude of things to do for everyone from children to adults. It has arcades, rides and specialty shops. But it also boasts a number of unique eateries and social bars.
I have been traveling to Old Town since I was roughly 14 years old. As a High Schooler I would ride mechanical bulls, in college I would check out the bars, and as an adult I like to take my kids around to different rides or to enjoy a cotton candy.
Old Town is truly a gem of Orlando and its close proximity to the parks and affordable lodging is really a must see!
Learn more about planning an
Orlando vacation
, including renting a
timeshare in Orlando
.
Experience the Thrill of Receiving Notice of My Weekly Timeshare Rental Specials that Non-Subscribers Will Never Learn About. Ever.
Don't worry -- your e-mail address is totally secure.
I promise to use it only to send you Timeshare Rental Special of the Week.