My favorite thing to do in Las Vegas is to visit the casinos!
by Rick
(Palm Springs, CA)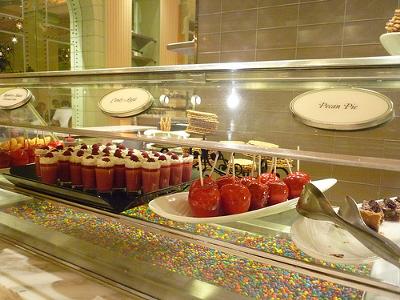 Las Vegas Buffet
I love getting comp'd free drinks and rooms. Since I gamble almost exclusively in the casinos when I'm visiting Las Vegas, I tend to get a lot of perks which make the experience enjoyable.


I spend most of my time on the Strip, and will rarely make forays to the smaller casinos, because I enjoy the atmosphere in the bigger casinos. I enjoy visiting Caesar's Palace and the MGM Grand, primarily.
As far as what it costs, that depends on the day and how lucky I am, of course! I might spend a couple of hundred dollars in a day and break even, lose money, or come out ahead. Generally, I tend to break even.
I may have lunch or dinner in the casino, so this may run another twenty-five to fifty dollars for each meal.
The casinos, I feel, are beautiful, sumptuous places that are a pleasure to visit. You can satisfy all of your senses through the lighting, the feel of the dice, the taste of the food and drinks, and the sounds of machines whirring, people gambling, and dealers calling out the bets.
This is definitely a party-type environment for adults who are out to have a good time, spend some money, and forget their cares and worries.
Now, if you're looking for family-friendly fun, many of the casinos do offer additional forms of entertainment. There are concerts, Blue Man Group, magicians--you name it, they've got a show for it. So, yes, there are some family activities that can be had in the physical casino, but as far as my favorite activity of gambling, that is adults-only.
Discover three
Las Vegas timeshares that you can rent
for your next vacation.
Experience the Thrill of Receiving Notice of My Weekly Timeshare Rental Specials that Non-Subscribers Will Never Learn About. Ever.
Don't worry -- your e-mail address is totally secure.
I promise to use it only to send you Timeshare Rental Special of the Week.