Anaheim Magic
With WorldMark Dolphins Cove just three blocks away from Disneyland, staying at this timeshare rental goes hand in hand with a visit to the "Happiest Place on Earth." But this family-oriented resort in California's best-known tourist city has more to offer than just proximity.
On the plane, my wife and I weigh the pros and cons of the different Park Hopper ticket options -— I'm convinced the two-day will suit us, while Julie's leaning towards the three-day. It's not just the additional expense that concerns me —- this is my first visit to Southern California, and I want to see lots of it.
But then we arrive at Dolphins Cove and the guest services desk throws a monkey wrench into our debate: we can purchase a FOUR-day pass for the same price as a three-day —- a deal you can't get at the gate. I find myself reaching for my credit card before I can even begin to imagine the level of commitment I'm making. I simply trust Julie's nodding head and the enthusiasm in my little son's voice as he jumps up and down proclaiming "'ICKY 'OUSE."
The magical world
We dip our toes into Walt Disney's theme park our very first night when we drive over to the Downtown Disney district. Like its Orlando, Florida, cousin, the Downtown Disney area has no admission charge and three hours of free parking, so dropping in for dinner and evening entertainment is simple.
The atmosphere is decidedly Disneyesque -— everything looks familiar but somehow better. ESPN Zone has the game on its big screen TV above the entrance, and a crowd has gathered on the sidewalk to watch. In a real city this scenario would cause tremendous congestion, but here there's space enough to stop, look up and even find a place on the low concrete wall to sit a minute.
All along our route I notice the same attention to detail —- street performers are carefully placed so as not to stop traffic too much and not impede on each other's acts, restaurants give clear signs of cuisine and degree of formality, nightclubs' vibes brim from their doors but don't leak any unsavory characters into our path.
We choose Tortilla Jo's for dinner and then wander down the boulevard until we reach the gates of the two parks. By now our son Jackson has a balloon tied to his wrist, a complicated double-layered affair with Mickey's head inside a bubble. Our appetites are whet; we're ready to live the fantasy.
The next morning, after a restful night's sleep at Dolphins Cove, we pass through the Disneyland park gate and walk under the railroad trestle. The effect of the park is immediate and overwhelming. Everything is as it should be —- the bricks in the sidewalk are a perfect color red, the blossoms on the flowers are bold and strong and along Main Street U.S.A. a horse-drawn streetcar is accepting passengers.
Even though this is my first visit to Disneyland park, it's all very familiar and touches me in a sentimental way, an idealized village, perfectly immaculate in every nook and cranny, with the warm fresh scent of waffle cones and chocolate lingering like an almost forgotten childhood friendship.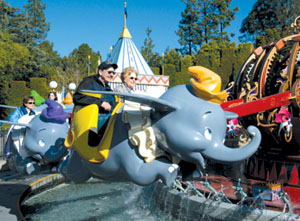 Dumbo the Flying Elephant
Sure, we stand in line for the Dumbo the Flying Elephant ride and enjoy seeing Jackson smile as the car rises and falls, and we stand in line for the Snow White performance at the Fantasyland Theatre. We laugh along as our Jungle Cruise guides toss out zingers about the animatronics on shore and sing along with "it's a small world" while wondering just what the heck the world was like when it was built for the 1964 World's Fair in New York City (after which it was disassembled, shipped here and put back together).
But what our four-day ticket has really gotten us is the license to search high and low for people in cartoon costumes, to dine on chocolate-covered frozen bananas and to walk along well-lighted streets with a complete sense of safety and possibility that the next ride or attraction will return us to our most credulous, wide-eyed childhood selves.
Such a tall order, of course, can never be filled, but with our magic ticket, we return time and again to the park, sun block applied, camera at the ready, stroller loaded with snacks and supplies. California Adventure, with its lighter crowds, Playhouse Disney – Live on Stage, the Tower of Terror and California Screamin' roller coaster turns out to be the experience our small entourage favors.
Julie and I take turns getting on the Soaring Over California ride, making use of the single-rider line that puts us all the way in front while Jackson naps, and twice we enjoy lunch at the Pacific Wharf, sampling San Francisco sourdough bowls of chowder and listening to live music under a bright mid-day sky.
Poolside play
Dolphins Cove has evolved over the years from a stand-alone timeshare to a unique mix of ownership arrangements. Fairfield Resorts manages the property and owns many of its units outright. Other units are in traditional timeshare arrangements.
A few years ago, WorldMark acquired inventory that amounts to approximately 30 units at Dolphins Cove, split up into weeks. Since these weeks are spread out throughout the resort, the units themselves were not customized for WorldMark, but they are very comfortably furnished and certainly meet our standards, plus you'll find WorldMark's signature six spices in the kitchen.
Ours is a two-bedroom, one bathroom condominium with a king-sized bed in the master bedroom and a twin with trundle bed in the second. The sofa in the living room pulls out, making the maximum occupancy of six possible.
With just two adults and one toddler, our space at Dolphins Cove is almost expansive. The air conditioner stays on low most of our time here (it's early June and beautiful outside, but inside it can get stuffy), and we return daily in the early afternoon for naptime. By the third day, Jackson has the route from our front door to the kiddie pool down pat—down the hall, down the stairs, around the corner and then wait for Mommy with the card key. Every morning we set out on a new adventure, each starting with a walk through this beautiful five and a half acre resort that for this short period of time has truly become our home.
It's Wednesday morning, and Bead Bonanza is going on in Dolphin Cove's poolside clubhouse. The weekly activity calendar here at Dolphins Cove is extensive, with pool games, contests, scavenger hunts, bingo night, ice cream socials and arts and crafts. At practically any given time between 9:30 in the morning and 6:00 in the evening, something is happening.
One of the great things about Dolphins Cove, this morning's bead leader tells me, is that a family can come for a week and find plenty to do even if they decide not to set foot in an amusement park. The kids love it, she says, and in the four summers she's worked here she's seen a bunch of them return and is pleased that she has gotten to know them as they've grown up.
To children at Dolphins Cove, these activity leaders are fairy godmothers and godfathers, keeping them active and providing guidance in fun. Friendship bracelets, sea shell painting, yarn art and scavenger hunts—the week is one long party for the young ones. And Kids Cove, where fully toilet trained kids are welcome to hang out, gives their parents an opportunity to relax by the pool or in the Jacuzzi on their own.
For adults, Dolphins Cove's guest services desk offers personal agenda-setting advice and reservations, and of course is your essential source for park tickets. Time and time again, we drop in for restaurant suggestions or directions and are greeted with a smile, a highlighter pen and a map. Planning becomes almost as much fun as doing, an on-going weeklong conversation in the front lobby of Dolphins Cove.
The Boulevard and Beverly Hills
We dedicate a day to driving to the beach and take a purposely slow and meandering route as Jackson naps in the backseat. On my wish list for this trip has been to visit Hollywood, so we've planned a route that goes through Los Angeles and Hollywood Boulevard.
"When the stars come out" has a whole different meaning here, and like all the tourists I'm here to see anything associated with movie stardom. Give me a name I recognize written on the sidewalk, a footprint, a plaque, and I will photograph it. Ordinarily I consider myself blasé to the cult of celebrity, but this is where all those years of watching TV and movies is going to pay off.
We approach from the seedy east end of Hollywood Boulevard, passing the pawn and car repair shops until tourists toting camcorders begin appearing on our right. The scenery contains sights familiar to me: the Pantages Theater, Capital Records, and the Wax Museum.
Then we approach Hollywood and Highland, the enormous entertainment and shopping complex that is at the center of the Boulevard's revitalization effort. Julie points out the Kodak Theater, where the Academy Awards ceremonies are held. Two long SUV-style limousines are parked on the side of the road, and we speculate on who could be inside. I imagine what it might be like to have VIP access to all this, to be part of the inner-circle that has made this part of the world its playground for the past century. And my speculation continues as we move forward into Beverly Hills.
Even from the road, I feel a sense of privilege. A wide green median and a bright clear sign welcome us to the neighborhood of the rich and famous. We pick a turn at random so we can gawk at some homes. Up a narrow winding hill, we see enormous white stucco buildings accessorized with Mercedes and BMWs. Every turn brings us past more of them, along with an unsurprising number of construction sites where additions or new buildings are going up. I wonder what's behind some of the big cement walls, where the swimming pools are hiding, and how people with that much wealth spend their time. We hit Rodeo Drive and spot a few ladies of fashion out strolling with their little white dogs.
Everyday enchantment
The front desk at Dolphins Cove will direct you to Huntington Beach for saltwater refreshment, and you really can't do much better than good old Surf City. But we've chosen Santa Monica because that's where our route has led us, to the terminus of Santa Monica Boulevard. The pier entices us with its Ferris wheel and roller coaster. We're up for some old-fashioned California seaside fun.
In the afternoon sunshine, we find some seats near the arcade and lunch on hot dogs and milkshakes. Then we amble among the crowd and watch some of the contests, assess the roller coaster and look out at the ocean. We wander out onto the white sand where we etch out a spot and sit.
It's a minute or two before Jackson wants to run down to the water and get his feet wet, a minute or two that, amid the mass of beach-goers, is absolutely what we've come to Southern California to achieve, the ideal vacation moment with still more adventure laying ahead of us but everything aligned perfectly in the present. And then, pointing his little finger at the Pacific Ocean, my son says, "Daddy, 'EACH!" and pulls me again into his wide-eyed world where everything is new.
Adapted from the article by Keith Walsh, as originally appeared in our owners-only magazine.
Discount Timeshare Rentals
Experience the Thrill of Receiving Notice of My Weekly Timeshare Rental Specials that Non-Subscribers Will Never Learn About. Ever.
Don't worry -- your e-mail address is totally secure.
I promise to use it only to send you Timeshare Rental Special of the Week.